Cuisine Issue 162 - 5 Stars & Best Buy
Rosé is a winner ...

Today was a big day for the 36 bottles team. The results of the Cuisine Rosé tasting for the January 2014 issue (issue 162) where published today.

And we are extremely happy to announce that the 36 bottles Pinot Rosé 2013 has achieved 2nd place in the tasting, receiving a 5 star rating and a 'Best Buy' accolade.

To say we are surprised and elated is a bit of an understatement! A great coup for us, especially as this is our first Rosé; and its all because Jane insisted that I must make one for her THIS year, not next year or the year after.

Cheers, here's to you Jane.
The tasting note in Cuisine reads -
"Having twisted husband Douglas Brett's arm to produce a
Rosé
, Mt Aspiring Wines co-owner Jane Young was delighted with the result of this debut wine. This delightful, off dry, cherry infused drop by Wanaka's Sarah-Kate Dineen is intense and lively with the acids balancing the sweetness beautifully. Try it as an aperitif with salmon dotted bellini."
Also a big shout out to Sarah-Kate Dineen, truely a Queen of
Rosé
, thank you for your efforts on this cracking summer wine wine with us.
Check our
Distributor
and
Where to buy
pages for help in locating stockists. We aim to be up and running for online sales in the near future.
The Kapiti Food Fair was held last weekend, 30 November, on the last day of Spring. And the weather didn't 'disappoint', with spring reminding us that changeable weather is the norm. The conditions were blustery with occasional showers.
Lindale, just north of Paraparaumu is a wonderful little venue, and easily holds the 90+ vendors who display their wares. Inspite of the conditions the crowd started to roll in at 10:00AM. While not the crowd numbers of previous years those that did brave the elements where in a spending mood.
For us this was the first opportunity we have had to personally present our increased range of wines. This year we offered tastings and sales of our new Riesling 2013, Rose 2013, Pinot Noir 2012 and Pinot Gris 2011.
The feedback on the Riesling (which has 3 Silver Medals!) and particularly for the Rose (even though the weather wasn't summery at all!) was fantastic. In fact on the day we ran out of Rose 2013, and came close to clearing all the Pinot Noir stock as well.
All in all it was a great chance to to show the wines, connect with the public and get a feel for what people are wanting to drink. And in spite of the weather we all a had a good time, so big thank you to Patrick and Jane for all their input on the day.
We are happy to welcome several new locations in Wellington region to the family of businesses who sell or list our wines.
We are pleased to have Regional Wines and Spirits (near the Basin Reserve) and Centre City Wines as stockists of our wines.
New restaurants and cafes listing our wines include Hippopotamus at the Museum Art Hotel, Vista Cafe (Oriental Parade) and Olive Cafe (Cuba Street) in Wellington city.
Elsewhere in New Zealand our wines can now be found at Bearing Point in Ohakune, Cambridge Fine Wines, Cambridge and Monsoon Poon, in Custom Street West, Auckland.
We are very happy to see our wines listed in these and our existing stockists; and to see the locations were discerning wine lovers can source our wines on the increase. Thank you everyone, we appreciate your support.
Cheers /
Santé!
We are extremely pleased to announce that the 36 bottles brand has now completed arrangements with Wine 2 Trade to represent and distribute our wines in the lower half of the North Island.
Wine 2 Trade is owned and operated by Sue Davies, who established the company in 2008.
Wine2Trade is a boutique New Zealand wine distribution business supplying on-trade such as restaurants, cafes and hotels, as well as wine resellers, mainly in the Wellington region.
Sue will provide representation for '36 bottles' brand throughout the Wellington region, and as far North as Ohakune.
Sue has over 2 decades experience across production, sales and marketing aspects of the wine industry. Her skills will help us achieve our goals as a boutique producer of high quality Central Otago wines. Sue is also well known for her highly trained palate, having been involved in many wine shows as a judge; and she has been a New Zealand Wine Options Champion on several occasions.
Having Sue and Wine 2 Trade on board now completes our distribution network running the length of New Zealand; which includes Manifesto Wines Ltd (Paul Simmonds) in Auckland / Upper North Island and Cellarworks Wines Ltd (Gerald Roberts) in the South Island.
Full contact details are available on our
Distribution
page.
After the snow there is the skiing, and recently is has been pretty good up on the Mt Ruapehu fields, and the apres ski has been good off the mountain in Ohakune as well. For us it is even better as the Winesmiths Pinot Noir 2011, our stable mate for the much awarded '36 bottles' Pinot Noir, is available at Bearing Point in Oakune.
Big ups to our Lower North island distributor; Sue Davis of Wine 2 Trade. And thanks Raymond for the Tweet!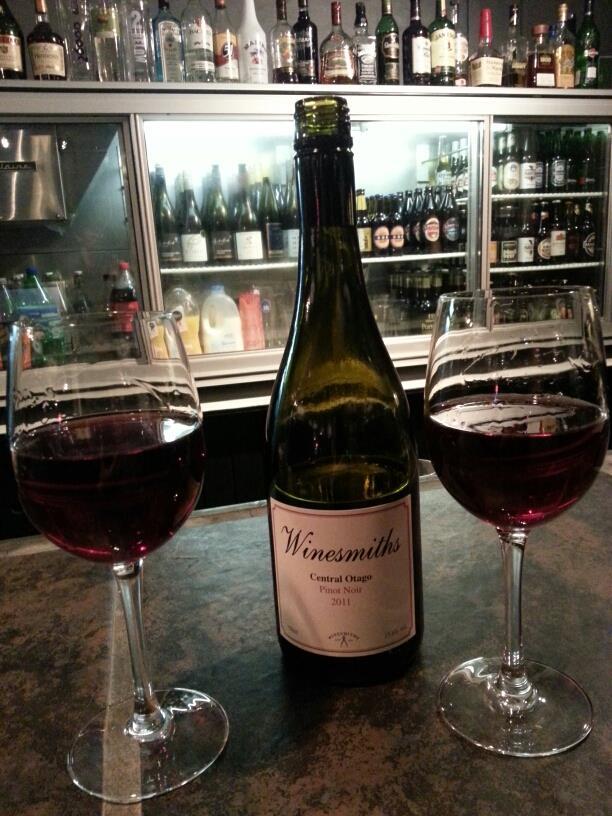 Look what Bearing Point in Ohakune have on their #nzwine list - Winesmiths PNoir'11 @36bottles pic.twitter.com/I5mNr9Clvw

— Raymond Chan (@winenoter) July 26, 2013
We are very pleased to announce that we are welcoming Liquorland Porirua to the 'family' of wine retailers who are stocking our wines in the Wellington Region.
Liquorland will be stocking our award winning Pinot Noir.
Liquorland are located at 18 Paramoana Street, Porirua.
The Central Otago Pinot Noir Celebration 2012 commences tomorrow. This looks like being a great event, as rather than being a workshop it is a celebration of the magic grape with a combination of relaxed organised tastings and food events to showcase our local food and the wines we make.
The Celebration is held on the interesting cycle of 2 years on, one year off. The year off coincides with the running of the Pinot Conferences held in Wellington. This gives the counter point of a celebration as opposed to a conference.
This is our first year and we look forward to sharing our wines with wine industry VIPs, critics and Pinot Noir lovers for all over New Zealand and overseas.
In particular I'm looking forward to the 'Lunch in Downtown Queenstown' at Les Alpes, in Church Street where we will present our Pinot Gris 2010 as one of the wines selected to match a specially created menu for the Pinot Celebration delegates.
Check the Les Alpes out at -
http://www.lesalpes.co.nz
Check back for more news as the Celebration progresses.
written by Douglas Brett
This year the Wellington City Market has doubled your opportunity for a bit of pre Christmas retail therapy and relaxation. The second shopping night is taking place this Wednesday 14 December. This also co-incides with the Carols by Candlelight in Waitangi park, right outside the market. So even more reason to come on down and enjoy (or get) the feastive spirit.
We will again serve our Pinot Gris and Pinot Noir by the glass, as well as doing bottle sales. As always at this time of year we have several gift options ready made for friends and family who love their wine. These include the branded Presentation gift box with your choice of wine, and various gift bag options.
And for the really special gift how about the option with a bar of delicious Esque boutique Chocolate (made right here in Wellington).
Look forward to seeing you Wednesday night - 6 PM to 9:00 PM, Chaffers Marina.
Hi everyone,
Big shout out that the Wellington City Market is having two Special Xmas Mid Week markets this year.
Markets are on Wednesday 7 December and Wednesday 14 December. Location is in the Atrium of the Old Post Office Building by Chaffers marina in Wellington city. Running from 5:30 PM to 9:00 PM each evening.
We will be providing tastings of our wines, doing sales by the glass (well plastic goblets actually) and offering a range of buying options from by the bottle to feastive gift wrapping to the [ultimate!] Presentation Gift Box of Pinot Noir plus an Esque boutique Chocolate bar. Cos we all know Pinot lovers are Chocolate lovers too!
Look forward to seeing you there - pass the word on to all your friends, as we would love to see them as well.
Merry Christmas!
Michael Coopers Buyers Guide to New Zealand Wine, 2012 edition was released on Monday 14 November.
This is the 20th Anniversary edition (its been running for as long as Toast Martinborough!). It now covers over 3,000 wines from about 700 wineries, compared to a few hundred wines in the first release, and has always been my 'wine bible'. It is a massive achievement and great thanks to the 'master' for this indispensable guide. With all the tasting involved I'm in awe of his organisational skills to produce this Guide, and all his other literary efforts.
This year the guide includes reviews for our Pinot Gris 2009 (4 stars), and the Pinot Noir 2009 (3 1/2 stars)
The Gris is described as - "it has good immediacy, mouthfilling body and vibrant peach,pear and spice flavours in an off dry style, deliciously strong and lively."
Sadily we are sold out of this wine, but it's 2010 cousin is also pretty nice and collected a Silver medal this year.
The Noir 2009 is described as - "... is generous and silky, with cherry/plum flavours. showing some savoury complexity and good harmony."
The Pinot Noir is currently available online and from selected fine wine stores and restaurants.
Huge thanks to Dan Dineen and the team who are our winemaking consultants for their efforts and support in creating these wines.